Tatarstan's government goes electronic
27 August 2010

From the section

Business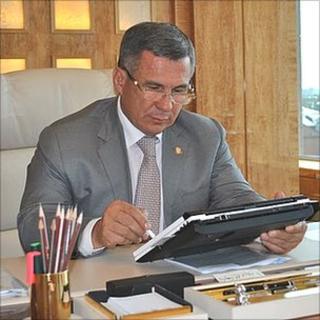 Russian officials do love their stamps and forms. Anyone who has lived or travelled in the country will be aware of their dedication to bureaucratic procedure.
But in an aspiring republic on the Volga river, change is on the way.
"Hello, can I help you?" The Russian voice is friendly, but startling nonetheless.
When you hit the "Help" button on a computer screen, you do not expect an actual person to talk to you.
But here she is: a young woman in what looks like a call centre, smiling out of a pop-up window on the screen.
This is an "infomat", a device that looks like an oversized cash machine and allows the citizens of Tatarstan to access a whole range of government services, from applying for a passport to paying a parking fine.
Infomats
Tatarstan is a pre-dominantly Muslim republic, about an hour's flight east of Moscow.
Thanks to an abundance of oil, it is one of the most developed parts of the Russian Federation.
And lately it has decided to pour some of the profits from the oil trade into an ambitious e-government programme.
The "infomats" appeared on the streets of the capital, Kazan, a year ago.
The machines not only reduce the time citizens have to spend queuing in government offices, they also make it more difficult for corrupt officials to demand special "fees" - or bribes - for their services.
Live broadcast
You can also find one on the ground floor of the building that houses the regional government administration.
Built in 2005, it is filled to the brim with the latest gadgets, ranging from a TV gallery that records all sorts of meetings and briefings to the president's digital signature device.
Cabinet meetings are beamed on to television screens everywhere, from the press office to the reception areas.
About half of them are also broadcast live on the internet, so that Tatarstan's citizens can actually see what the president and his top officials are up to.
Though not necessarily hear: the sound is off during most of these transmissions.
Changing mentality
Tatarstan's current President, Rustam Minnikhanov, decided to launch the e-government drive a few years ago, when he was still prime minister.
"I felt that in order to be able to take the right managerial decisions, you need to have full information - and this information needs come to you fast and leave you fast as well," he tells Russia Business Report in his marble office with great views of the Kazan skyline and a neat arrangement of Blackberry, iPhone and iPad on the desk.
Convincing the bureaucrats, he says, was a challenge: "This system of electronic government differs from how things used to be. And maybe the most important thing for us was to change our employees' mentality so that they stopped being afraid of electronics and saw the efficiency of the system."
It took two years to digitise and synchronise the databases of the different parts of the state's administration.
Now they are working on rolling out e-government across the republic, all the way down to the municipal level.
So that, for example, the head of a local fire department can regularly check in with his employees in other villages, rather than travel long distances.
Modernisation agenda
Local firms developed the software for the ambitious project. A few of them are based in a brand new IT park in Kazan, open since last October.
There we meet Tatarstan's Deputy Prime Minister and Communications Minister, Nikolay Nikiforov - at 28, already a former IT entrepreneur who has moved into government.
He is working on increasing broadband coverage for Kazan's 1.1 million inhabitants, from 50% at present to 70% next year.
The city is also the first place in Russia and neighbouring countries to roll out a next-generation broadband wireless network - LTE.
It is all very much in line with the modernisation agenda that the federal government in Moscow is pushing.
But even in this wired republic, not everything is fail-safe.
In the car on the way to our next interview, I try to make a phone call using the mobile network. It drops out a few times - the reception is too weak.